A strong set of tires is vital for any vehicle's performance. Tires that are worn down become a major safety hazard and can even be attributed to 11,000 car crashes each year, according to the National Highway Traffic Safety Administration. With this in mind, it's important that you stay on top of your tires' maintenance schedule.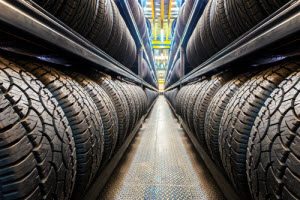 Luckily, the
service center
at Mile High Honda provides tire maintenance near Denver that you can count on. Whether you need your treads patched, tires replaced, or wheels aligned, Mile High Honda is here to help you care for your tires. Our certified technicians will make sure that your tires are strong and are dedicated to your satisfaction every step of the way.
Here are some of the tire services we offer at Mile High Honda:
Checking Your Tire Pressure
Correcting your tire pressure is more important than you might think. When tires deflate, your vehicle's performance, safety, and fuel economy all suffer. It's normal for tires to drop in pressure, but checking them at least once a month at Mile High Honda will prevent them from losing too much air. We'll refill your tires as needed and get your Honda back on the road in no time.
Rotating Tires for Honda Vehicles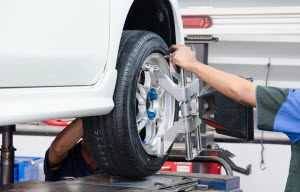 Rotating tires at factory-recommended intervals allows the treads to wear evenly. Moving your wheels diagonally, left to right, or front to back prolongs the life of your tires and prevents them from losing too much traction. It's best to check the
maintenance schedule
specific to your Honda, but we recommend getting tires rotated approximately every 6,000 to 8,000 miles. When your Honda needs its tires rotated, stop by Mile High Honda to see what we can do for you.
Replacing Honda Tires
No matter how vigilant you are with tire maintenance, it's inevitable that they'll need to be replaced at some point. Mile High Honda has a wide inventory of new tires when yours are too worn down, and we'll find a set that's the perfect fit for your vehicle.
Wheel Alignments
Your wheels can get misaligned after going over potholes or bumps in the road, eventually leading to uneven tread wear. If your steering wheel is vibrating or your car is shaking, make an appointment at Mile High Honda to check if your wheels are out of alignment. Our technicians will straighten them out in no time and perform other tire maintenance procedures as needed.
Get Your Wheels Turning at Mile High Honda in Denver         
You'll never regret making time for tire maintenance. Getting your tires checked regularly at Mile High Honda in Denver improves your vehicle's performance and ensures that your tires are strong enough for your daily driving demands. At Mile High Honda, our certified automotive technicians give each customer the care and attention they deserve. We'll make sure that your tires are strong and sturdy, and we're happy to answer any questions you have about maintenance along the way. Whenever you need tire maintenance, Mile High Honda is here to help. Give us a call to speak with a service expert or
schedule a service appointment
online.